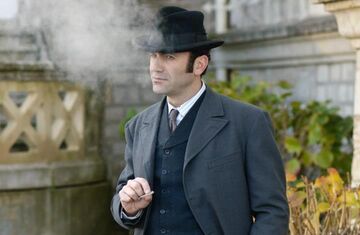 Descripción general
Edit
El Agente Hernando forma parte del Cuerpo de Vigilancia de Cantaloa.
En Cantaloa, Hernando ha trabajado siempre como agente de la ley y nunca ha tenido que enfrentarse a crímenes importantes que necesitaran de una investigación compleja... hasta que sucede en el pueblo el asesinato de una joven prostituta, es entonces cuando llega un superior de Madrid: El detective Ayala  (que se queda indefinidamente cuando empieza a destapar muchos más crímenes cometidos en el pueblo, en especial en el Gran Hotel).
Junto con Ayala, Hernando forma el dúo policial de investigadores en la serie. Al contrario que Ayala, Hernando es patoso, despistado, palurdo, obcecado y alelado.
Hernando trata de esforzarse y auxiliar a Ayala en las investigaciones, pero la mayoría de veces solo es un obstáculo por culpa de su necedad y ofuscación.
El ser tan zoquete irrita y pone fuera de sí al culto y perspicaz Ayala, sin embargo entre ellos se forja una cercana camaradería teniedo los dos una relación de compañerismo de amor/odio.
Hernando es interpretado por Antonio Reyes.
Primera temporada
Edit
Write the second section of your page here.
Community content is available under
CC-BY-SA
unless otherwise noted.