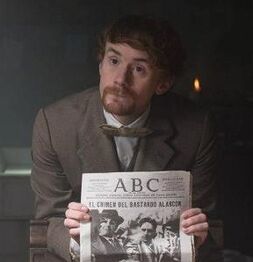 Descripción general
Edit
Emilio Bazán es un Inspector Jefe corrupto del Cuerpo de Vigilancia que llega a Cantaloa para hacerse cargo de la investigación de la desaparición de Belén Martín.
Bazán conocía a Belén del pasado (probablemente la conoció durante la etapa que Belén ejerció la prostitución) y sabe que en realidad no está muerta sino que ha fingido su desaparición y muerte para inculpar falsamente a su marido Andrés Alarcón y así hacerse con la fortuna de su herencia. Bazán decide aliarse con Belén y participar en el engaño, así (como inspector) inculpa a Andrés de la muerte de Belén (aun sin tener pruebas reales contra él), le condena al garrote vil y está a punto de matarlo. Sin embargo el Detective Ayala descubre el engaño a tiempo y salva a Andrés y encarcela a Bazán por el fraude.
Más adelante Bazán es liberado de la cárcel con la condición de que ayude al Detective Ayala a apresar a Belén, la verdadera urdidora del plan contra Andrés.
El Inspector Bazán es interpretado por Daniel Pérez Prada.
Section heading
Edit
Write the second section of your page here.
Community content is available under
CC-BY-SA
unless otherwise noted.