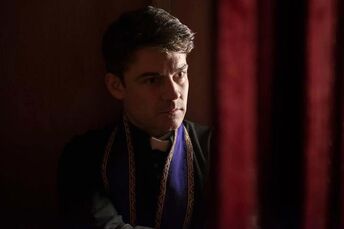 Descripción general 
Edit
El Padre Grau es el nuevo Párroco de Cantaloa en la tercera temporada de la serie.
Es un hombre apuesto, amable y con un gran don de gentes y poder de persuasión.
Es cautivador y galán y, desde su llegada al pueblo, comienza a mantener aventuras con algunas feligresas.
Tiene durante un tiempo una aventura con Sofía Alarcón que se enamora de él y quiere fugarse con él. Sin embargo el Padre Grau no tiene intención de sacrificar su estilo de vida y dejarlo todo por Sofía (a la que pide que se olvide del asunto). Más adelante se descubre que el Padre Grau también mantenía otro romance con otra feligresa a la que dejó embarazada.
El rumor de que el Padre Grau tiene una amante es un secreto a voces en toda Cantaloa.
Finalmente abandona Cantaloa presionado por Sofía (que le amenaza con revelar los secretos de todas las aventuras que ha tenido).
El Padre Grau es interpretado por Roger Coma.
Section heading
Edit
Write the second section of your page here.
Community content is available under
CC-BY-SA
unless otherwise noted.